Bodiam Castle seems to rise up out of a still, peaceful lake, and is a beautiful example of a late medieval moated castle.
Built near the River Rother in East Sussex, the castle's foursquare structure marked a change in the way castles were being used.
Originally built as strongholds for defence, by the time of Bodiam's construction the emphasis was on comfortable, elegant country houses. Looking at the castle plans you can see that the result of this sea change is a beautiful curtain-walled house, well defended and fortified, set in an area of outstandingly beautiful landscape.
The moat was man made, the architects having diverted the river to flood a wide area of marshland.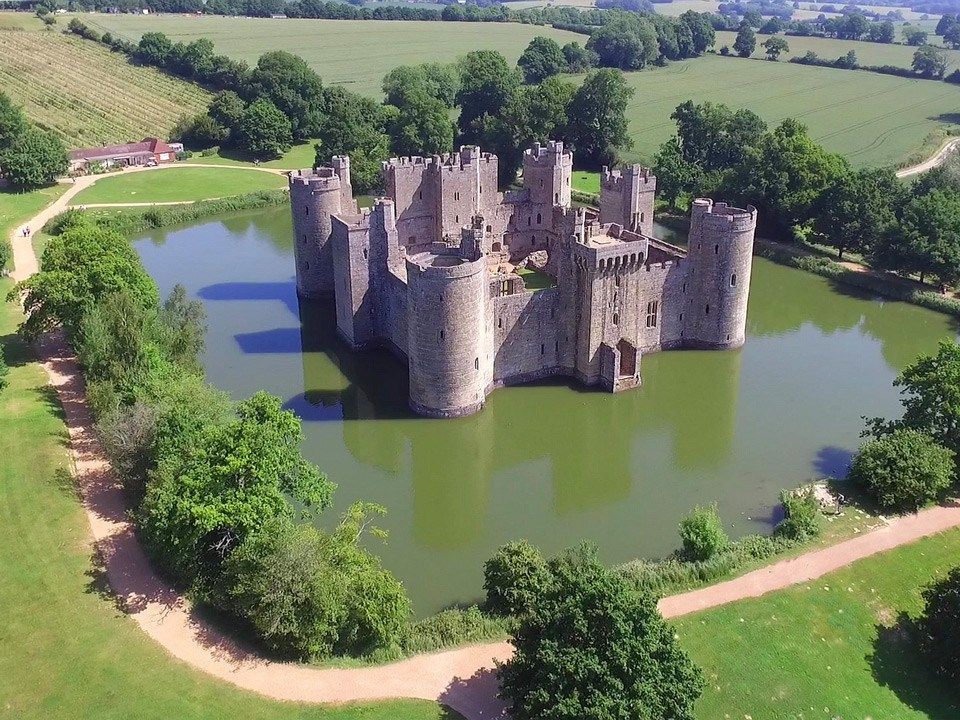 The site was originally a Saxon fortification. No doubt its location right on the river made it a very useful strategic position and would have been a prime site as a trading post.
The castle was originally built by Sir Edward Dalyngrygge. Following the wars in France under King Edward III, Sir Edward petitioned the king for permission to strengthen his family home to protect him and his family from reprisals from the French, and having received permission decided to reconstruct his home as a moated castle.
Laws at the time required that crenellation of buildings had to have a special licence, and this was granted to him in 1385.
Crenellation wasn't so much a practical defensive measure as a deliberate outward show of class and nobility; only a handful of licences to crenellate were ever issued, and only then to the most loyal and trustworthy subjects.
He attained very high noble status and was appointed Keeper of the Tower of London and Governor of the City of London.
Despite fears of French invasion and reprisals Bodiam Castle never did come under attack from the French, although during the Civil war it became a target for the Parliamentarians who attacked and took the castle. The external walls and drum towers appear to have been unscathed, but massive damage was done to the interior of the castle. It became uninhabitable and was left derelict for nearly three centuries.
During 1664 despite being empty it was thought to have been subjected to the 'slighting' that Cromwell's Parliamentarians inflicted on castles at the time, damaging them as much as possible in order to make sure they either remained or became uninhabitable. However no records have yet appeared to confirm this.
It wasn't until the early twentieth century that any attempt at restoration was made, when Lord Curzon acquired the castle and started some rebuilding work in an attempt to restore the interior and to preserve what still remained.
When Lord Curzon died in 1925 Bodiam Castle was bequeathed to the National Trust who continue to administer it today.
For visitor information including opening times and ticket prices visit the Trust's Bodiam Castle pages.