There are hundreds of castles in Wales that were built over the course of many centuries. They were usually built to suppress the Welsh, rather than to protect them and were involved in many conflicts over the years. Some of these castles have stood the test of time better than others.
Carmarthenshire
Carreg Cennen Castle
Carreg Cennen sits remote and high on top of a huge limestone crag rising up out of the Brecon Beacons in Carmarthenshire. A spectacular sight at sunset.
Laugharne Castle
Laugharne Castle stands on the river Corran in the estuary of the River Taf, and even if you know nothing of Welsh history you may well have heard of Laugharne.
Clwyd
Denbigh Castle
Denbigh Castle is one of the buttress castles built to support the great Ring of Castles, and stands high on a hill above the town of Denbigh.
Flint Castle
For Flint Castle opening times, admission fees and other information please see Cadw's Flint Castle website.
Gwent
Chepstow Castle
Chepstow Castle lies on the River Wye in Monmouthshire, and was built by William FitzOsbern in the period immediately following the historic invasion of William the Conqueror.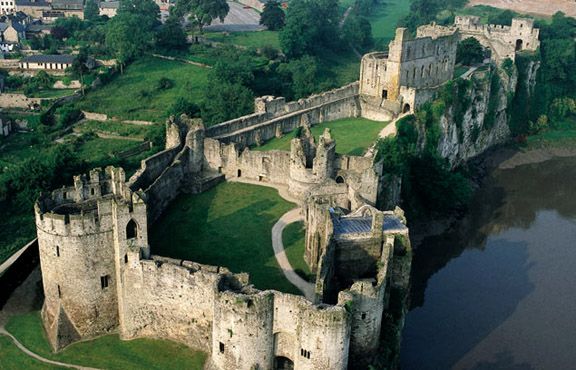 Grosmont Castle
The early history of Grosmont Castle in Monmouthshire, Wales, is uncertain, but it was most likely constructed within the 50 year period following the Norman conquest.
Raglan Castle
Raglan Castle was built on what would have been a motte and bailey Norman castle originally constructed by William Fitzherbert, and would originally have been a wooden building.
Skenfrith Castle
The date of first construction for Skenfrith Castle in Monmouthshire, Wales, is unknown, but a wooden motte and bailey castle was most likely built on the site by one of William the conquerors generals.
White Castle
The now-peaceful area of Wales historically known as the Honour of Grosmont was once a formidable barrier and stronghold for the Norman English.
Gwynedd
Beaumaris Castle
Beaumaris Castle derives its name from the French, le beau marais, or beautiful marsh. It is located on the island of Anglesey, part of the walled town.
Caernarfon Castle
Caernarfon Castle is situated between the North Wales mainland and Anglesey. It is located at the southern end of the Menai Straits.
Conwy Castle
Conwy Castle, an imposing grey stone fortress with very high curtain walls, sits at the entrance to the walled town of Conwy in North Wales.
Dolywddelan Castle
Dolwyddelan Castle is currently under the stewardship of the Welsh Assembly Government's historic division, Cadw.
Harlech Castle
Harlech Castle is a 13th century castle situated in Harlech in Wales. It occupied a strategic defensive position overlooking the sea.
Mid Glamorgan
Caerphilly Castle
Caerphilly Castle stands in the town of the same name which is 7 miles to the north of Cardiff in Wales. It was started in 1268, took around 10 years to complete.
South Glamorgan
Cardiff Castle
Cardiff Castle is a living monument to the history of the British Isles, dating back to the Romans in the first century A.D.